With small businesses expanding into the cloud, making an investment in networking is more critical today than ever before. This expansion is driving fundamental change across every IT infrastructure domain. Small Businesses need a network that's always available, adaptable, fast, reliable and secure.
This is where Interdist Alliances and Cisco are uniquely positioned to help boost your profitability with competitive pricing. Cisco's high-quality small business networking solutions are now available to you at big discounts for a limited time only - until 26th October!!!
Available Promotions: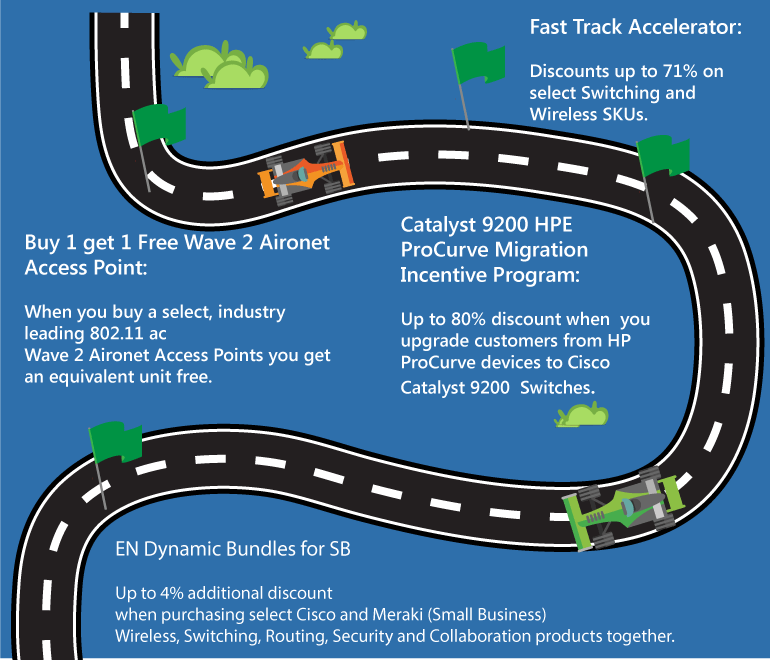 Cisco Fast Track Accelerator
Speed up your Cisco sales with competitive pricing. Cisco's Fast Track Promotion gives you high discounts on selected switching and wireless SKUs for a limited time only. This will help you sell these great products at a highly competitive price.

The Fast Track promotion has been designed to give you a competitive advantage. This promotion even gives you the opportunity to offer Cisco's best products at a price which is appealing to the SMB-market. Call Interdist Alliances today to get the best prices o Cisco Meraki, Catalyst 9200 and so much more.
Cisco Enterprise Networks Dynamic Bundles for SB
A dynamic discount model that rewards partners with an additional discount, when cross-selling selected routing, wireless and switching products targeting the SMB segment. Includes the Small Business portfolio, along with traditional enterprise and Meraki. See EN Dynamic Bundles for SB and Commercial.
Catalyst 9200 - HPE ProCurve Migration Incentive Programme:
This offer incentives partners to upgrade customers from HP ProCurve devices to Catalyst 9200 and drive expansion across the Catalyst 9200 series.
This is available for all registered partners.
This applies to qualified registered deals with trade-in of HPE ProCurve switches.
Customers must return competitive gear or provide proof of destruction.
All other MIP conditions apply.
Buy 1 Get 1 FREE - Wave 2 Aironet Access Point
Now your customers don't need to choose between price and performance for your Wi-Fi network. With this offer, they can get both.Cisco provides an outstanding Wi-Fi experience with industry-leading reliability, security, and performance. And the Mobility Express versions of these access points is especially simple to deploy and manage. So, act now, and let Cisco Wi-Fi help you empower your business.
Eligible models are the Cisco Aironet 1815i, 1840i, and 1852i/E. Find out more about this here.