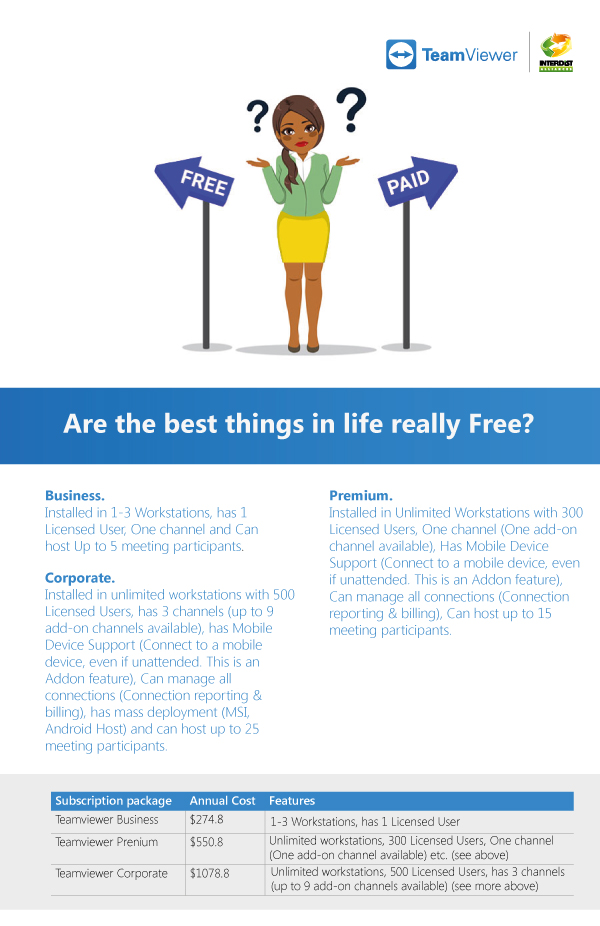 Are the best things in life really free?
The benefits of a paid license might sway your thinking. Lets explore...
The free version of the software is available for personal users. This means if you are making connections between your own personal devices at home or are connecting to friends and family to assist or communicate with them.
However the software is not free if you are using it in relation to your employment or within an organisation. This includes connecting to your work computer or colleagues, working from home, supporting clients through TeamViewer or connecting/monitoring any devices that create some form of revenue or compensation even if this is for a Not-for-profit (Although we do offer special NFP pricing). On Windows Servers, TeamViewer has a commercial feature enabled by default. This means that in order to use TeamViewer on a Windows Server, a license is required per user.
There are also feature differences between the versions and license levels. If you purchase a license, these additional features will be unlocked when you apply your license.
Intrigued?
CONTACT US and let us take your business to the next level.