Running a small business and making investments is no small undertaking. The decision is not only based on cost but, you want the investment to be simple, smart and highly secure, built for your needs today, and ready to adapt for tomorrow.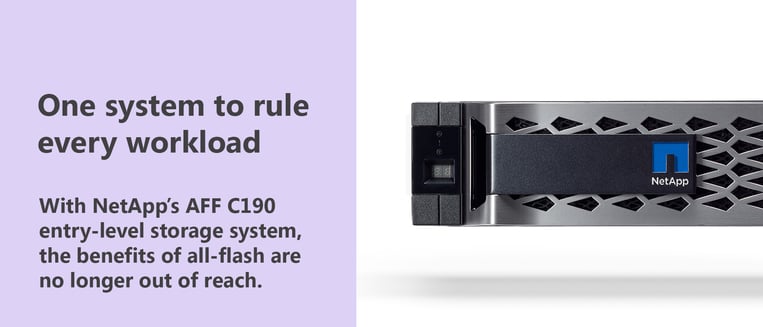 Technology is advancing at a rapid rate and contribution in the right IT solution can be challenging that often lacks the necessary IT specialist. Many questions surface, such as how can you be sure that the IT solution you invest in today will serve you well tomorrow? And, does a more affordable solution mean it's less secure, less agile or less scalable?
Along comes the NetApp AFF C190 all-flash storage, an affordable, scalable storage solution from the data authority, NetApp. C190's intuitive management software is easy to deploy without a specialized team and easy to manage, giving you provision storage in under ten minutes. With C190, you can consolidate and manage all of your SME's files and block data from a single system, increasing efficiency. Connect to your preferred cloud service with ease and automatically backup, tier or migrate your data.
Invest in Scalability
Small enterprises need storage solutions that are scaled to fit their needs. Paying for too much storage is throwing away money, yet, at the same time, you want a solution that can grow as your business grows. C190 allows you to store more data for less with inline data reduction. Flash storage also means a ten-times faster application response time. Increasing efficiency in your SME means more time and more money to put towards other priorities, like growing your business.
Invest Smartly
They say that hindsight is 20/20; however, having accurate foresight also gives a clear picture. C190 can help you see into the future. Data-driven insights help you identify and correct problems before they occur, which can save your organization time, money and unnecessary headaches. With NetApp AFF C190 all-flash storage's capabilities, IT professionals who want a low-cost flash solution to modernize, future-proof and simplify their infrastructure have access to a scalable, efficient, and high-performing file storage system.
Don't wait until you need more storage. Start future-proofing your company's IT now. You should see the NetApp AFF C190 there.
If you're looking for One system to rule every workload, Let's talk